Each month as part of StartHub Startups to Watch Program we connect with the winning company to learn more about them.  Our August Startup to Watch is tripBuddy, an employee productivity app that helps co-workers carpool to work together. Recently we had the pleasure of interviewing Tawheed Abdul-Raheem, Founder of tripBuddy.  Here's what we learned:
Tell us about your company. What is tripBuddy?
tripBuddy is an app that helps co-workers carpool to work together. To get started, a user enters their home and work address and will get automatically matched with any co-worker who shares their commute route. We are a mobile-based platform and are already being used in the app store.
What is your background?
As an international undergraduate student, I found it difficult to ask my peers for rides to the store or to run errands, as many new college students do. There was no easy way of connecting with my peers to help me out.
Fast-forward a few years later, I started working in the corporate world and had a 20-mile commute, which could take anywhere between 60 to 80 minutes. In those years that I spent commuting to work, I realized a big issue: Most cars only had one person in the car - the driver.
So, I quit my job as a software engineer to build tripBuddy, an employee productivity app that helps co-workers carpool to work together. We set out an ambitious mission to reduce the number of cars on the road and increase employee productivity.
How did you come up with the idea for tripBuddy? Who is your target customer?
My commute on Route 3 South into Burlington, MA was so painful that I spent most of my time in traffic thinking about how I could help and not be part of the problem.
Our target customers are corporates who are willing to invest in their employees - by providing employees with the platform to reduce cost and time spent commuting.
How do you think tripBuddy is going to disrupt the market? What are the main differentiators between you and your competitors?
tripBuddy stands out from its competitors in that we are not looking to reinvent a technology that has existed since the 80s. We are looking to provide a platform that increases the convenience of carpooling. We want our product to be offered as part of benefits packages for employees in mid-to-large companies.
There is an untapped market waiting for us. We have seen our competitors tap into that market on the West Coast, which gives us the validation we need. Now we are hoping to target that space on the East Coast.
Who are your main investors?
tripBuddy is 100% bootstrapped. Something the team is extremely proud of!
Why did you decide to start your business in Boston? How long has your company been around?
I decided to start my business in Boston because Boston is home to me. I moved to Boston 10 years ago, got my education here, and worked here. Boston is a great hub for resources, but unfortunately, also has commuting issues--of which we are hoping to target.
What resources in the startup community have contributed to the success of tripBuddy?
Without a doubt, the largest contributor to our success has been MassChallenge (MC). Through MC we have been able to network with individuals and organizations and further the development of our company.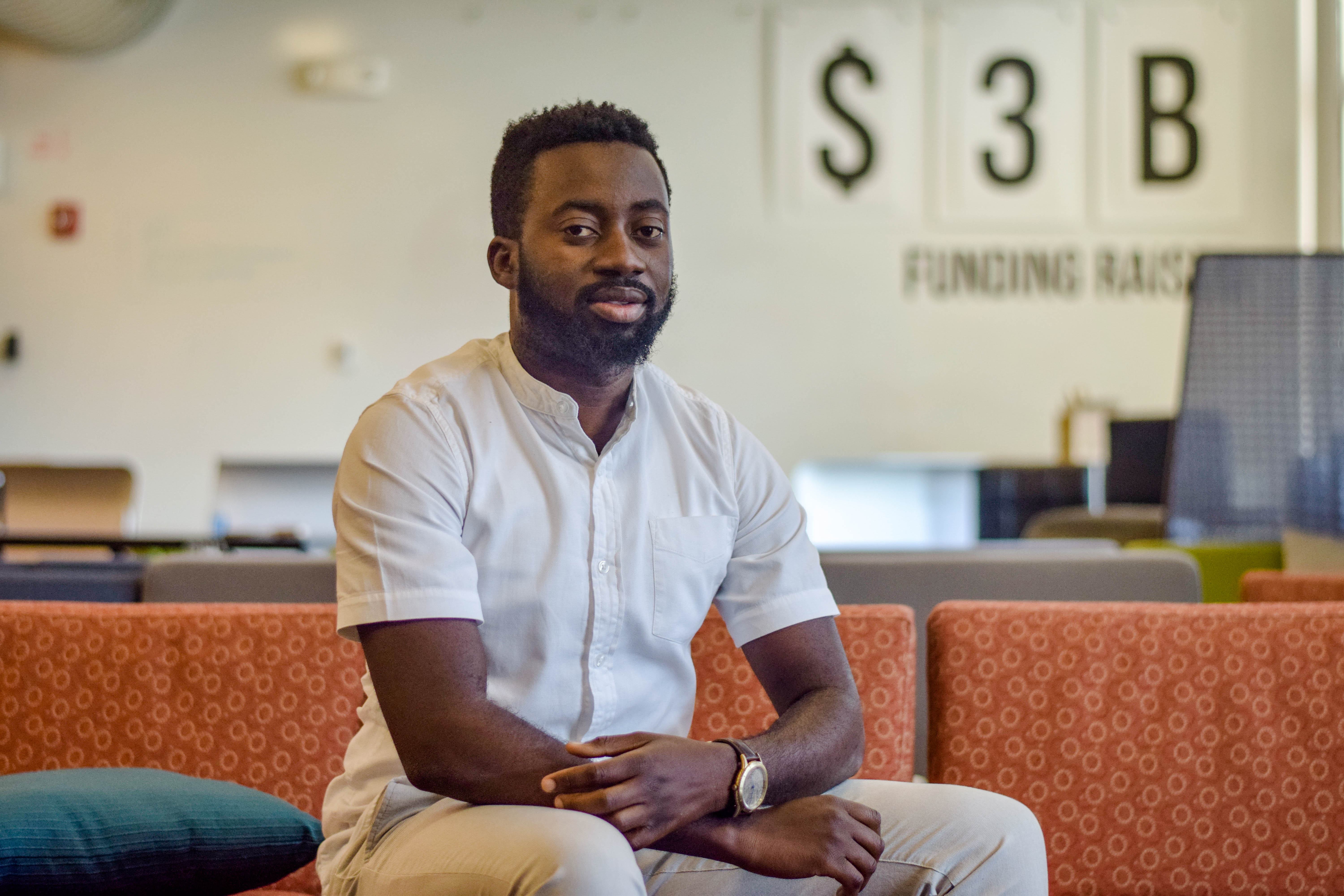 Tawheed Abdul-Raheem at MassChallenge
Our success can also be attributed to the networking events we have attended and the coverage we have received from many organizations, like this one.
How do you use StartHub professionally?
StartHub is a great resource for startups to get help. One of our best interns found us from a feature we got from StartHub!
What are the next steps for tripBuddy?
Growth is our next focus. We want to be able to grow as a company, expand on operations, and continue our pilots with various large organizations around the area.
What is the most important thing our readers should know about tripBuddy?
A staggering 46% of Boston commuters drive to work alone. During peak hour of the morning commute, 395,000 people head to destinations in Boston. Of these trips, 229,600 (60%) originate outside of Boston while the remainder start within the city. 96,000 of Boston commuters drive alone to work.
Our goal for the Boston area is to provide the commuters, who drive alone, an easy-to-use service that takes the pain out of coordinating and scheduling carpools. We are focusing on employers who are looking for ways to make commuting easier for their employees.
Read Complete Article