Details
The Women in Defense Greater Boston Chapter (WID-GBC) is pleased to announce a half-day seminar that will provide the latest updates on the Office of the Secretary of Defense (OSD) ManTech program and its Department of Defense (DoD) Manufacturing USA Innovation Institutes, as well as highlight recent technical advancements of the Advanced Functional Fabrics of America (AFFOA) Innovation Institute.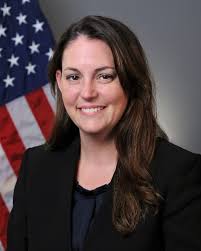 This event features keynote speaker Ms. Tracy Frost, Director, Office of the Secretary of Defense (OSD) ManTech and Director, DoD Manufacturing USA Institutes. Ms. Frost oversees the Defense-wide Manufacturing Technology program (ManTech), as well as the thirteen DoD Manufacturing Innovation Institutes. Previously, Frost served as the DoD SBIR/STTR programs administrator out of the DoD Office of Small Business Programs, as well as managed the Office of Naval Research's SBIR Program. Prior to small business involvement, Frost served as a science and technology program manager for over 10 years in the areas of unmanned systems and ship logistics. Tracy has a B.S. in ocean engineering from Florida Atlantic University and an M.S. in engineering management from George Washington University.
Agenda
7:30 - 8:15 Registration, Continental Breakfast, Networking
8:15 – 8:30 Opening Remarks
Event Chair: Dr. Livia Racz, Assistant Group Leader, MIT Lincoln Laboratory
Event Co-Chair: Karen Krause-Bencal, Vice President, WID Greater Boston Chapter; Director of Strategic Programs, Beacon Interactive Systems
8:30 - 8:45 Welcome
Dr. Marc Bernstein, Associate Director, MIT Lincoln Laboratory
8:45 - 9:00 Plenary Speaker
Colonel Rachel Cafferty (USAF, Retired), Executive President, Women in Defense
9:00 – 10:00 Keynote Address - DoD Perspective: The Critical Need for Manufacturing Innovation
Ms. Tracy Frost, Director, OSD ManTech and Director, DoD Manufacturing USA Institutes
10:00 – 10:15 Coffee Break
10:15 – 11:15 Advanced Functional Fabrics of America (AFFOA) Panel
Jason Cox, Chief Engineer, AFFOA - Technology Roadmap
Ms. Natasha Spackey, Dir. BD, AFFOA - How to Engage with AFFOA - Membership
Ms. Shiyun Ruan, AFFOA - How to Engage with AFFOA – MicroAwards
11:15 – 12:00 The Defense Fabric Discovery Center (DFDC) Panel
Dr. Alexander (Sasha) Stolyarov, Lead, DFDC, MIT LL - Tech Roadmap & Virtual Tour
Jeffrey Pacuska, Program Manager, US- Army Combat Capabilities Development Command (CCDC) - Soldier Center- How to Engage with the DFDC and MIT LL
12:00 – 12:15 Concluding Remarks
Ira Moskowitz, Director, Advanced Manufacturing Programs at Massachusetts Technology Collaborative; Board of Directors, AFFOA
12:10 – 2:35 Lunch, Technology Demonstrations and DFDC Tours
A box lunch will be provided for attendees. AFFOA/DFDC table top technology demonstrations and tours of the DFDC will also be conducted during this time. Tours are limited to 15 people per tour and bus shuttles will run every 20 minutes.
2:30 pm End
________________________________________________
Location & Directions:
Location: MIT Lincoln Laboratory, 244 Wood St, Lexington, MA 02421. For Directions and Parking, visit the MIT Lincoln Laboratory website here.
Registration:
Fees: WID Members: $45, Non-WID Members: $75. Registration is limited to members of WID-GBC, and women networks at MIT LL, AFFOA and CCDC Soldier Center.
WID Membership: To receive the WID member rate, attendees must be a registered WID member and provide their member number upon registration. WID membership is complimentary for current government and military personnel. To learn more about WID, become a member, or obtain your WID membership number, visit www.womenindefense.net.
Registration Guidelines: Registration for this conference is limited to U.S. Citizens. U.S. Citizens must bring photo-identification that has been issued by the federal government, such as a passport, or a state government, such as a current driver's license (that is certified for identification purposes).
Registration closes March 18, 2019 and no walk-ins will be accepted. Cellphone use is restricted. For more information, contact Josephine Lewis at josephine.s.lewis@raytheon.com.
Women in Defense Greater Boston Chapter Leadership Speaker Series
This event is part of the WID-GBC Women's Leadership Speaker Series, a program recognizing women leaders making significant contributions to their professional field.
Women in Defense HORIZONS Scholarship Fund
Net proceeds from this event will be contributed to the WID HORIZONS Scholarship Fund, a program which encourages women to pursue careers supporting U.S. national security, with a focus on defense or foreign policy. Since its establishment in 1988, HORIZONS has awarded more than $440,000 to more than 145 recipients pursuing degrees ranging from law to engineering to math to public policy. WID is currently accepting applications for HORIZON Scholarship Fund in academic year 2019-2020. To learn more click here.
Thank You to Our Event Hosts!
WID-GBC thanks MIT Lincoln Laboratory & AFFOA for their generous support as the hosts for this event.